Enjoy your pool......Extend your swim season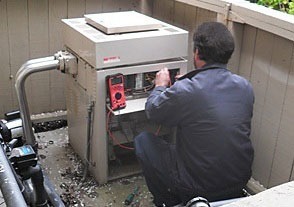 Your pool and spa is a long-term investment that you, your family and friends will enjoy year after year. Now, there's an easier way to enjoy that investment more often, more reliably and more efficiently throughout the year with a modern digital pool and spa heater.
Think about being able to use your pool or spa at the perfect comfort level even when Fall arrives...or when the first chill of Winter is felt in the wind...or in the Spring or Summer when evenings can turn chilly in a minute! Helping you get more enjoyment from your pool or spa is the smart idea behind a digital pool heater.
Pool Heater Frequently Asked Questions
Does my pool heater need any service?
Each of the pool heater manufacturers recommend an annual maintenance and safety inspection by a qualified service technician.
What is done during an annual maintenance and safety inspection?
All unit safety controls are checked for operation. Pilots and burners are cleaned and checked. Operating controls are tested. Water quality is assessed. Draft is checked. The unit is checked for bee, wasp, and yellow jacket nests and removed. Possible damage from rodents is checked. Adjustments are made to improve efficiency. Debris is removed from inside of the unit as necessary.
Why would I select Hartford & Ratliff to service my pool heater?
Hartford & Ratliff is a second generation business that has been in the water heating business since 1955. We have extensive training and experience in servicing pool heaters, boilers, hot water heaters and furnaces. We stock thousands of parts for older units and current units.
My heater isn't heating like it used to, what could be the issue?
We receive this question often and there could be a number of reasons it doesn't seem to be working as well.
The starting water temperature and the outside temperature can cause the heater to take longer to heat your pool.
A pool heater is designed to heat the pool about 1 degree per hour with a maximum of 10 degree temperature difference between the supply water to the heater and the leaving water temperature from the heater.
Perhaps in previous seasons you had the heater set to run automatically and maintain the water temperature. This can get very expensive with today's energy costs.
Of course the heater may need service and is not operating properly.
My heater is not coming on at all, what can I do?
Be sure to check that the power is on to the heater. If it is a gas heater, check to be sure the gas shutoff valve is open. Also check to be sure the pump is running with water flow through the heater. Check your operations manual for turning on the unit and lighting the pilot (if no electronic ignition system on unit).
The unit is operating intermittently or cycling, what's the issue?
In this case you probably need service on the unit. One of the safety controls may be shutting the unit off and repairs need to be made to the unit.
I can't keep the pilot lit or it goes out often, can this be fixed?
There are several caused of pilot outage. Debris in the burner area, dirt in the pilot orifice, low gas pressure, a defective safety control are some of the issues you could have happening too your unit. Service by a professional is the best course.
There is water puddling around my pool heater. What causes this?
If the cause is not from your lawn sprinkling system or rain, the unit is probably leaking. You definitely need the service of a professional.
---
Need more information? Contact us or check out
our blog
for lots of information on pool heaters and other systems.
---